A Golden Legacy
November 09, 2006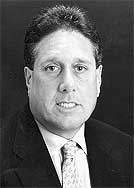 David Horowitz
Jan L. Apple
Jewish Exponent Feature
Giving back to the Jewish community has always been a vital and integral part of Daivd Horowitz's life. "I was inspired by my late grandfather, Lawrence Horowitz," explained the 46 year-old communal leader.
Lawrence "Larry" Horowitz, an ardent Zionist and active Jewish philanthropist, who built Young Adjustment Company into one of the most respected public adjustment firms in the nation, passed away in 1994 at age 87. David Horowitz, president and CEO of the company since 1998, remains committed to carrying on the family legacy through an array of charitable causes.
"I have been very fortunate throughout my life," stated Horowitz. "It is an incredible feeling to be able to help Jews in need, whether it's here in Philadelphia, in Israel or anywhere in the world. And believe me, the needs are great."
Increasingly active with the Jewish Federation of Greater Philadelphia for over a decade, Horowitz was the recipient of the Young Leadership Award in 2002, served on the United Jewish Communities National Men's Cabinet and twice chaired Green Valley Country Club's annual Federation Day and Super Sunday.
Horowitz currently serves on Federation's Board of Trustees, Federation's Men's Roundtable Leadership Group, the board of the Philadelphia Region's Anti-Defamation League and in June 2006 was inducted as president of the Golden Slipper Club & Charities.
Horowitz first visited Israel on a family trip in 1978. Yet the true turning point of his passion for the Jewish homeland occurred in 1999 on the Zachor Young Leadership Mission. He has since returned to Israel as a participant on three more missions.
In 1999, the group traveled to Vilnius, Lithuania, then Kiev and finally to Israel. Incredibly moved by the way their brethren lived in these small communities in Eastern Europe, Horowitz recalled the emotions evoked from meeting these fellow Jews and witnessing firsthand how Federation dollars were helping them on a daily basis.
"When we arrived in Israel, I felt a deep connection with the land and the people," said Horowitz. When the group visited Federation's partner region of Netivot-Sedot Negev, Horowitz was inspired to see how campaign dollars had dramatically improved the quality of life for residents such as the building of a community center, a synagogue and an arts center.
Horowitz and his wife of 22 years, Cindy, have two sons: Jason, 19, and Brian, 15. Members of Temple Sinai in Dresher, the couple feels strongly about perpetuating their support for the Jewish community. In that vein, six years ago, they established an endowment gift to Federation, ensuring their financial support for future generations.
As far as Horowitz's passion for Golden Slipper, he explains that the Federation partner agency has played a significant role since 1922 in helping Jews in need in the Philadelphia region. The organization operates the Golden Slipper Camp, Golden Slipper Uptown Health and Rehabilitation Center and Golden Slipper Center for Seniors. "The camp, established in 1948, has enabled so many deserving children to have a rewarding summer experience," said Horowitz. "We also give a variety of grants and college scholarships. Last year alone, we were able to provide 60 scholarships to Jewish youth."
Talk about family legacy, Horowitz knew that his grandfather was a member of the Golden Slipper Club & Charities but recently discovered that he was one of the original signers of the Golden Slipper Camp charter.
Besides a deep commitment to Federation and the various boards on which he serves, Horowitz often attends Golden Slipper committee meetings three nights a week; but he doesn't mind investing the hours. "Helping the Jewish community is so important to me. It is a win-win situation," he said.